In The News
Antonia Martin – Class of 2014
'I found my passion in social work at TWU'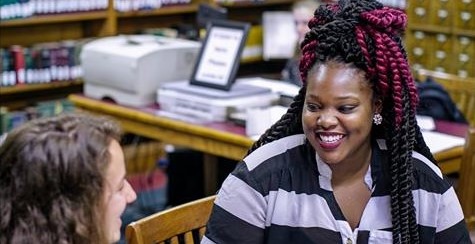 TENNESSEE WESLEYAN SENIOR POSITIONED TO BETTER PEOPLE'S MENTAL HEALTH
Antonia Martin knows the nation will recognize May 2018 as Mental Health Month.
But the graduating Tennessee Wesleyan University senior also realizes it's going to take more than 31 days of awareness activities to address the needs of people's overall health and well-being.
This is why Martin plans to build on her sociology and social work majors at TWU and is poised to pursue her master of social work degree at Southern Adventist University in Collegedale, Tennessee.
Increasing mental health awareness and helping others go hand-in-hand.
"I think the more help people receive, the better our communities will be because they are aware of mental health," she said. "It's also important to me because I would be helping to erase stigma on the mental health population."
One in five Americans is affected by mental health conditions. The National Alliance on Mental Illness indicates that the stigma surrounding these conditions is toxic because it creates an environment of shame, fear and silence that prevents many people from seeking help and treatment.
Through her education, Martin hopes to work in this field and eventually own an organization in rural and urban settings. She said her organization will predominantly focus on helping members of the black community and provide services for people struggling to find mental health and substance abuse services.
"I found my passion in social work at TWU," Martin said. "The many discussions, activities, field placements and volunteer opportunities helped me realize my dream job."
PHILOSOPHY OF LIFE REVEALS LIFETIME CAREER
Martin is from South Pittsburg, Tennessee, and is the first member of her family to attend TWU. If you ask her when she realized that social work was the career for her, she'll tell you is started with her "Interviewing Skills class with Linda Garza, a social work professor.
One of the student's assignments was to write a "Philosophy of Life" paper about themselves.
"I really became in touch my feelings. I then took other social work classes that helped shaped my decision to continue the social work major," Martin said. "Every time I had one of these classes, I was excited about what I was learning. I couldn't stop talking about what I was learning to my family and peers, and I then knew this is what I wanted to do."
This is the kind of experience Martin expected when she first visited and decided to attend TWU. Sure, she was from a small town and liked the size of the university campus in Athens, Tennessee. But she was most interested in how often she could communicate with her professors.
"I wanted my professors to know me, and I'm sure they all do now," Martin said. "I heard about many great programs and how people who went to TWU succeeded. I wanted to be a part of that."
Martin said she's seen over the course of her studies that social work can be fun and exciting, but people in the field also see the good, the bad and the ugly.
"In the field of social work, you must know everything you do is a process," she said. "You will get in touch with your emotions because we must deal with our issues first before helping someone else."