Employment Opportunities
Employment at RHMS
We are an Equal Opportunity Employment (EOE). All qualified applicants will receive consideration without discrimination because of sex, marital status, race, age, creed, national origin or the presence of disabilities as defined by the EEOC below. False or misleading statements during an interview and/or on the application form are grounds for terminating the application process or, if discovered after employment, terminating employment. Employment at RHMS will be based on the results of your fingerprint check.  A record of any kind will prevent you from obtaining employment at RHMS. Additional testing on job-related skills may be required prior to employment. Submitted applications will remain active for four months.
To submit an application for employment at RHMS, simply print the application form (from tab above), complete the form, and mail it to:
Richard Hardy Memorial School 1620 Hamilton Avenue South Pittsburg, TN 37380
The Richard City Special School District (RCSSD) Plan for Hiring Teachers Working with English Learners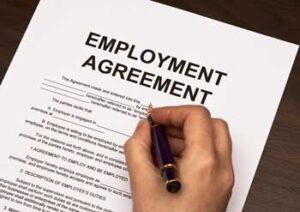 All teachers of any language instruction program for English Learners (ELs) need to be fluent and competent in the four domains of language assessed by the English Language Proficiency Assessment: reading, writing, speaking, and listening. If personnel has been previously hired
without these skills, the district needs to offer help to build the needed fluency.
A teacher's fluency in listening and speaking could be documented and evaluated during the interview process. Perhaps one person in the interview could be responsible for noting listening mistakes, miscues, grammar, and syntax mistakes, and judge the level of fluency for
both speech and listening.
Reading may be evaluated through the reading and responses that show understanding of the application process. Reading may be satisfied through the college transcript if from an English speaking university. The district may also use a shelf reading comprehension assessment.
Writing fluency is more difficult to ensure. Unless the application requires a writing sample, the district might encourage 15 to 20 minutes writing sample during the teacher interview. Ideally, the topic will vary. This sample is best done on-site so that the interviewee will have no
outside editing.
The exact requirement from the No Child Left Behind Act of 2001 is:
"TEACHER ENGLISH FLUENCY – Each eligible entity receiving a subgrant under section 3114 shall include in its plan a certification that all teacher in any language instruction educational program for limited English proficient child that is, or will be, funded under this are fluent in English and any other language used for instruction, including having written and oral communications skills."[3116 (c)]
The district may also have an assessment designed or contract with an outside agency for this screening. The district needs to decide if this is to be used only with English as a Second Language (ESL) teachers or with all hires.
Statutes for Equal Opportunity Employment
Code: 5.104 Date Issued. 11/15/01
Opportunity for employment, as well as continuation and advancement in employment, shall be afforded equally to members of all races, creeds, colors, sexes, religions, ages national origins, and individuals with disabilities or veteran status with regard only for qualifications for the positions involved (2.3)
Recruitment of Employees and posting of Vacancies
Code: 5.105 Revised: 10/04
The authorization of all school system positions rests with the Board. Personnel employment shall be within the discretion of the Director of Schools. The Director of Schools is responsible for developing a program to recruit licensed personnel. Identification of personnel needs shall be the responsibility of the Director of Schools and the building Principal. Efforts shall be made to include representation of academic and professional experience, age, ethnic backgrounds, race, and gender. All employees of RCSSD applying for a different position shall be interviewed by the Director of Schools. Vacancies will be advertised locally and through the closest placement offices. Vacancy notices shall be posted for fourteen (14) calendar days prior to filling the position. Personnel vacancies occurring during the school year shall be posted seven (7) calendar days prior to filling the position, except provision may in dire emergency situations require the Director's written approval.
Legal References: 1. TCA 49-2-203 (a)( I )
Application and Recommendation
Code: 5.106 Date Issued 11/5/01
APPLICATION
An individual desiring a position with the Board shall make an application to the director of schools on forms approved by the Board.1 In a continuing effort to further ensure the safety and welfare of students and staff, the district shall require criminal history records checks and fingerprinting of applicants for teaching positions and any other employee who has proximity to children. Knowingly falsifying information shall be sufficient grounds for termination of employment and shall also constitute a Class A misdemeanor which must be reported to the District Attorney General for prosecution. Any costs incurred by the Tennessee Bureau of Investigation in conducting such investigations of applicants shall be paid by the Board provided that the applicant is employed as a teacher. The cost of criminal checks and fingerprinting of all other paid employees shall also be paid by the Board provided they are employed.2 The Board assigns to the director of schools the duty to conduct thorough background checks and to advise all applicants that all hiring decisions are contingent upon satisfactory background check results.
Professional Employees
The application must include a transcript of credits earned at the colleges or universities attended along with reference information from persons such as previous employers, college professors, and supervisors of student teachers. Other information shall include whether such applicant has been dismissed for cause from a school system. If previously employed by a local board of education, the applicant shall provide evidence of acceptable resignation.1
No person shall be employed:
Who does not hold a valid license to teach from the State Board of Education3,
Who does not present a physician's certificate showing a satisfactory health record or has any contagious or communicable disease in such form that might endanger the health of school children4;
Who refuses to take and subscribe to an oath to support the Constitution of the State of Tennessee and of the United States of America;
Who fails to make a fall disclosure of any prior criminal record and any prior dismissals from employment for cause, or
Who does not receive a satisfactory background check1
Support Employees
No person shall be employed:
Who has any contagious or communicable disease is such form that might endanger the health of the children4;
Who is has not complied with the Immigration Reform and Control Act of 1986; or
Who fails to make a full disclosure of any prior criminal record and any prior dismissals from employment for cause; or
Who does not receive a satisfactory background check1
EMPLOYMENT
Professional Employees
After checking references and receiving written recommendations, the director of schools shall hire and assign qualified applicants7.
Initial Employment
Upon initial employment, the director of schools shall notify such person, in writing, of the offer and conditions of employment. Upon receipt of employment notification, such person shall have fourteen (14) days to accept or reject, in writing, the offered employment. From the date of the written acceptance, such person is considered to be underemployment with the Board and is subject to all rights, privileges, and duties1.
Support Employees
After checking references and receiving written recommendations from principals and/or supervisors, the director of schools shall hire and assign qualified applicants. The contract of each support employee shall contain a statement regarding the required ninety (90) day probationary period.
Legal References
1TCA 49-5406 2TCA 49-5- 406 (a); TCA 49-5-413(b) 3TCA 49-5-403; TCA49-5-101 4TCA 49-5-404;TRR/MS 0520-l-3-,08(2)(f) 5TCA 49-5-405 6Immigration Reform and Control Act of 1986 7TCA 49-2-301(f)(12)(31); TCA 49-2-303 (aX3)
To submit an application for employment at RHMS, simply print the application form available; complete and mail it to:
Richard Hardy Memorial School
ATTN: Director
1620 Hamilton Avenue
South Pittsburg, TN 37380 Or
email to
info@richardhardy.org
(We apologize for any inconvenience, our on-line entry version is under construction so we must ask you to print the application form available  to complete. Please revisit our site as we continually improve our resources.)