Rachel Shankles
About Your Teacher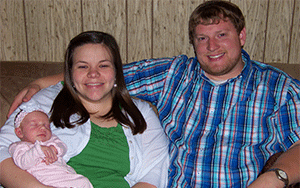 Current Position at RHMS: 4th and 5th grade teacher; She is a Elementary BETA Facilitator.
Educational Career: Rachel Shankles graduated summa cum laude from Tennessee Technological University with a BS in Multidisciplinary Studies- Elementary Education in 2010.
Name of High School: South Pittsburg High School (2006)
Hello everyone! Welcome to my classroom site!
I'm very excited to have the opportunity to be the 4th grade teacher this year. I believe that my job as a teacher is to provide a safe and challenging learning environment for all students. I care very deeply for my students, and I always work hard to help every child find successes in the classroom. I am married to Andrew Shankles, and we have a daughter, Anna, who was born on April 11, 2013. I have greatly enjoyed being a new mom! We have a cat named Bobby Jones and a turtle named Rocky. My hobbies list has changed over the past few months! I used to fill my free time with reading, playing piano, and pinning items on pinterest. I now fill my free time with reading, singing, and playing with Anna! When Anna is napping, I can still enjoy some internet browsing. I also love being involved in my church, and this year I'm blessed to have the opportunity to teach a class of 6-8th graders on Wednesday nights. I am greatly looking forward to the 2013-2014 school year!
The best way to contact me is via e-mail. I have access to my e-mail all day, and I'm not always able to get to a phone. My e-mail is rshankles@richardhardy.org. If you are unable to contact me via e-mail, please call 423.837.7282 Ext. 302 and leave a voice mail message for me. Please include your phone number in the voice mail message. The messages are sent to our e-mail, and there is no way to see the phone number of the person who left the message. Thanks!